A beautiful smile can be something very important for some people. With the progress of the technology, braces have become more common than ever. With the introduction of clear, colored and behind the teeth treatments, there is no better time to visit an orthodontist. Many people have opinions about orthodontists based on false information, and we're here to debunk those myths! Here are the top 5 myths about orthodontics.
Myth #1 – I'm too old for orthodontics
A nice smile is important no matter what your age is. It's never too late to perfect your smile so there is no age limit for orthodontic treatment! If you have any issues with your teeth or would like a straighter looking smile, never hesitate to reach for what you want!
Myth #2 – Orthodontics treatments take too long
Our treatments average out to 1 year. The amount of time depends on your age, your problem and the treatment technique that need to be used for you. Many other factors can also influence the time of your treatment but remember that the time can often be reduced with excellent patient cooperation. In the cases where treatment requires a few years, remember that it's a short amount of time compared to a lifetime of beautiful looking teeth.
Myth #3 – Orthodontics can be painful
There is a big difference between discomfort and pain. Orthodontics has come a long way to minimize patient discomfort and it's normal to feel discomfort during the first days. After a few days, the discomfort is short-lived after each adjustment appointment. Another thing to look out for with braces is discomfort due to the metal aspects of the braces. This can be greatly reduced with oral wax.
Myth #4 – A general dentist can do the same things than an orthodontist
Your family dentist is really good at what he's doing but remember that an orthodontist has 2 or 3 years minimum of specialized training beyond dental school. An Orthodontist specializes in straightening teeth and insuring proper form and function of the mouth.
Our orthodontics specialist is Dr. Andrea Picard, a bilingual specialist who has been practicing in Ottawa since 2007. She is an active member of the Canadian Association of Orthodontists, American Association of Orthodontics, Canadian Dental Association, Ontario Association of Orthodontists, Ontario Dental Association as well as the Ottawa Dental Society.
Myth #5 – Traditional, metal braces are the only option.
Advances in orthodontic technology have rendered improved braces and other orthodontic appliances that are much less noticeable than the braces of yesteryear. At Wellington Village, we offer traditional metal braces, self-ligating metal braces, ceramic braces and invisible braces (Invisalign or hidden braces behind the teeth.)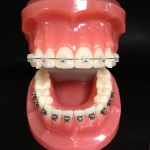 When you're ready to take the next step toward orthodontic treatment, please contact us at (613) 722-8500 and get ready to discover your smile!