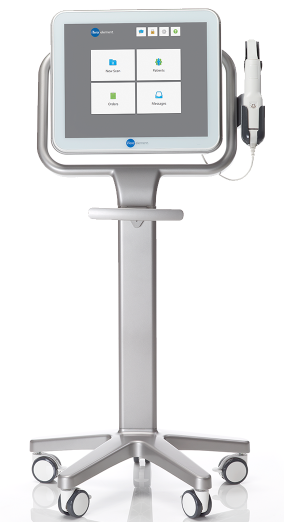 There is something new at Wellington Village Orthodontics! Our office is always looking for ways to make this process less invasive, more reliable, and easier for you. In an effort to bring this process up to speed, we're proud to announce we've acquired an iTero®Element™ Intraoral Scanner. This device will eliminate the need for those old school, messy impressions, and will provide the most accurate and detailed look into your treatment needs.
The iTero Intraoral Scanner is synonymous with high precision. Now, iTero®Element™ is engineered to deliver everything that doctors love about iTero scanners in a compact footprint with even bigger capabilities. iTero®Element™ is designed to put the latest technology at your fingertips and make intraoral scanning fun.
This new scanner will help our patients visualize how their teeth may look at the end of Invisalign treatment.
Why is the iTero Scanner important to my treatment?
The iTero Element scanner works by scanning each of your teeth and the layout of your gums and mouth. The whole process only takes 10-15 minutes and quickly provides an extremely accurate, 3-D view of your mouth. Once the scan is complete, we can view the images together, and even see a simulation of your braces or Invisalign treatment. The data can then be sent wirelessly to Invisalign or to a number of other orthodontic labs with the click of a button.
Now, with this new technology, we do a digital scan of your mouth, send the data wirelessly to the lab, where they then print a 3-D, stereo lithographic model, create the appliance, and have it back to us in about a week. This helps save YOU time! We've also noticed the models we're getting back are much more accurate and the appliances we create are fitting better than ever.
This new scanner also allows us to consult about any underlying problems that are found prior to braces treatment, and allows patients a complete 360° view of what I'm seeing. Capturing up to 6,000 images per second, it's easy to see just how beneficial this tool is to our staff in providing a clear view to map out your braces treatment!
To learn more about Wellington Village Orthodontics or if braces are right for you, schedule a consultation with our staff. We'll take time to answer any questions you may have and map out a treatment plan just for you.